When we've watched a brilliant TV show, movie or film, what's the first thing we want to do? Talk to someone about it! Sharing our excitement and enjoyment over books can be a fantastic way to encourage reading at home. As children crave contact with their friends, virtual book clubs can provide an excellent platform for book talk, plenty of opportunities for creativity, promote reading for pleasure and allow time for some much needed social interaction!
Starting a virtual book club is relatively easy. All you need is a small group of children (perhaps start with your child's closest friends), an online conferencing platform (such as Zoom) and access to the same book for all involved (probably the trickiest part at the moment!).
Activities
1) Set up the club
Find willing participants and set up an introductory Zoom session. A free account will allow conferences of 40 minutes, which is a great length of time for a book club chat for children. If participants are unfamiliar with Zoom, you may want to lay some initial ground rules for participation so it doesn't turn into a screaming frenzy! (Once children understand that the loudest person talking becomes the 'main screen', they will try their best to achieve this!). An adult may want to lead the first session, but you should aim to allocate child 'leaders' to run the other virtual book club sessions (if the children are old enough).
Initially, parents will need to familiarise themselves with Zoom and ensure it is used safely.
2) The first session
It might be worthwhile hosting an organizational meeting first. This is an initial meeting between the kids in the book club and their parents or guardians. This meeting will provide space for the children to get to know each other before the club begins reading and allow parents to schedule dates and times etc.
Allow time for the children to talk freely, but provide a structured activity to draw out those who might be shy, too. Perhaps ask them to design a poster about their favourite book in advance so that they can share this? Have everyone introduce themselves by sharing three facts about their reading habits – perhaps where they read, who they read with, their favourite genre/book/character etc. Parents should provide three options for their first book (you could use photos of book covers/blurbs). Ask them to look at the book covers and choose one to read for the first club. If they can't agree, take a vote.
The first meeting is also a good opportunity to create some rules for the book club. Ask the children to come up with some 'rules for talk' e.g. only one person can talk at a time, raise your hand if you want to speak, treat the everyone with respect etc. Towards the end of the call, parents can decide a date for the next meeting. After the first meeting, they will also need to ensure they are able to acquire a copy of the book! If you are struggling to obtain a physical copy of a book, audio books and kindle versions are perhaps more readily available with some organisations offering access to audio books for free.
2) Set a fun task to complete before you meet
The designated group leader should set a task in advance of the first meeting. The goal here is to encourage reading for enjoyment, whilst socialising and talking about books! Book clubs should not be linked to reading comprehensions or worksheets. The related tasks should be fun, engaging, creative activities that they can share with their friends when they meet. Here are a few ideas:
Create a game linked to the book
Create a mask of your favourite character (or use facepaint!)
Come to the meeting dressed up as a character from the book
Illustrations – design a new front cover, draw your favourite character, a scene from the book etc. If you all do the same you can compare afterwards!
Create puppets of main characters and 'act out' a 2 minute scene from a key moment in the book for your friends to guess!
Write in role as a character (e.g. a diary entry at a particular moment in the book)
A specific task related to the book (for example, create your own 'House on Chicken Legs' like the one below!)
Encourage children to come up with their own ideas for the 'task'.
3) Have your first Book Club session!
An overview of a 40 minute session could look something like this:
15 minutes – 5 questions from the group leader, allowing each person to respond in turn
15 minutes – Share your creations or any written responses
10 minutes – take a vote on the next book!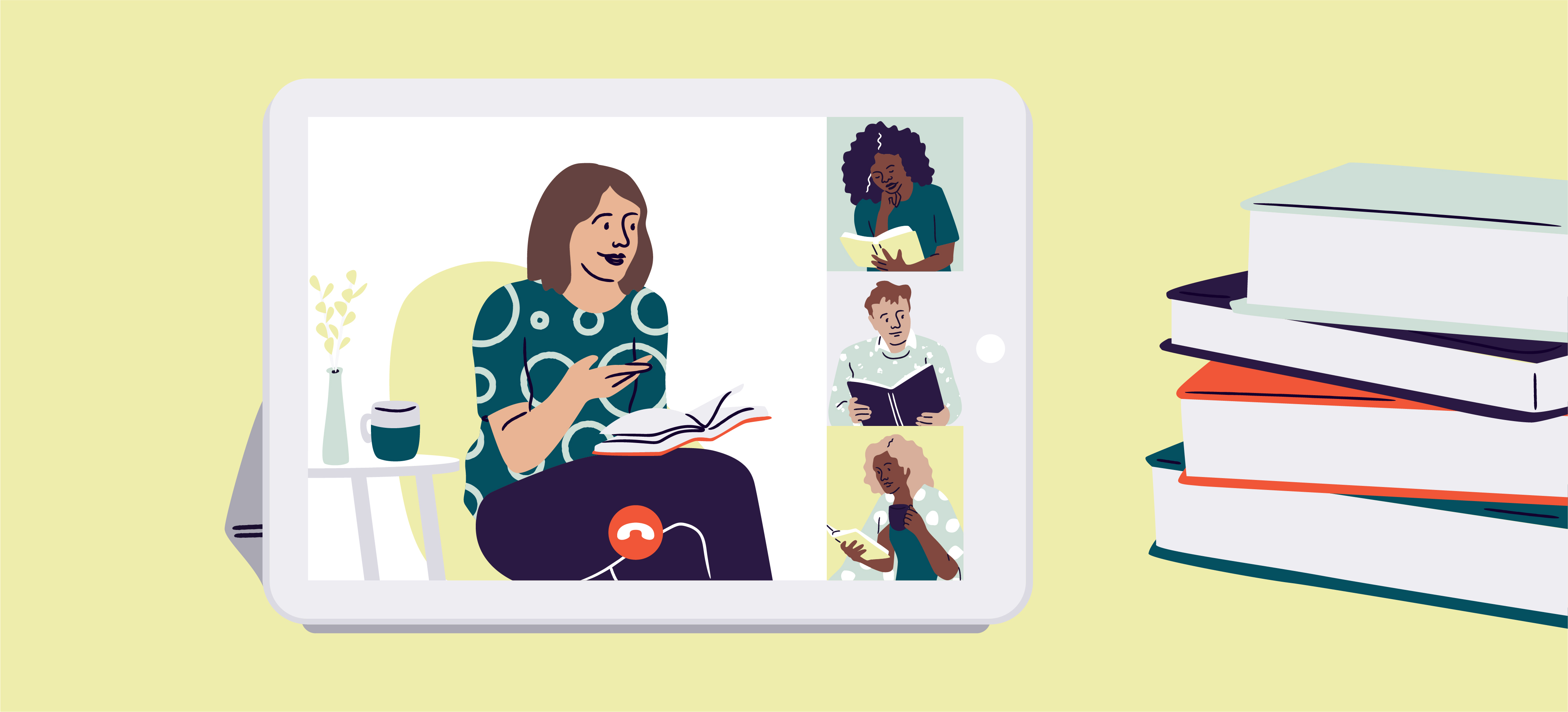 Some Do's and Dont's…
Do: Limit the number of participants. A group of 4 to 6 children is ideal for online communications.
Do: Allow the children some choice (many book group books are chosen by showing 4-5 book covers and taking a vote on what to read next).
Do: Establish some ground rules for talk to encourage participation and cooperation (no interrupting, no idea is a bad idea, a child leader hosts each session and drives the discussion etc.)
Do: Make the meetings fun (try not to make it seem like extra homework but add fun tasks to enthuse the children and get creative e.g. if reading about magic or potions, make some slime!)
Do: Mix up the genres (switch it up frequently and read both fiction (mysteries, young adult novels, and science fiction) and nonfiction (historical works, books about science, and so on).
Do: Keep it simple. Each club should start with book talk/discussion, followed by a fun craft related to the book. Top Tip! Don't make crafts too elaborate. The focus should remain on the book and the conversation about the book.
Don't: Underestimate the children's maturity level (they will surprise you!)
Things to consider when setting up a book club at home:
Make sure everyone wants to be involved in the book club.
Make sure the children are roughly the same reading level.
Decide where to host the book club – Zoom, FaceTime etc. It will depend on your relationships with the other parents!
Share the responsibility of hosting among other parents and children in the book club. Parents should support child 'leaders' in organising and planning their session.
Contact your local library or book seller – some are offering local deliveries.
Contact your class teacher – they might have suggestions, ideas, question cards or resources to help you get started!
Top Tip! Every club meeting should have two discussion leaders – one book club member and one of their parents. Together, this team should guide the discussion (but not dominate it) by asking questions and determining who can talk. This helps maintain order and ensure everyone gets a chance to speak. Facilitators should prepare leading questions before the meeting in order to ensure the discussion is productive and thought-provoking. Good questions include: What was the setting? What kind of book is this? Is it a true story? Who was your favourite character? What was your favourite part? If you didn't like the book – why not? Why did a certain character choose a certain course of action?
…Share and Connect!
We'd love to hear whether or not you enjoyed your Virtual Book Groups! You can either comment in the box below or post a photo on social media (you can find me on Facebook and Twitter) using the hashtag #literacywithmissp
Happy Reading!
Miss P x