I'm pinching this brilliant idea from Twitter – so huge thanks to Mr. Booth for the inspiration, please do keep the ideas coming!
Writing Amazon book reviews is an authentic, engaging way to motivate your children/your class to write book reviews. It's a lovely way to share our pleasure in books and reading (which can provide excellent escapism at the moment!) and actually publishing their reviews on Amazon will give them a very real purpose and audience for their writing. This is really important for added motivation!
Activities
1) Book Chat, biscuits and blankets
Ask your child/children/class to think about a really good book that they've recently read. You will need to do the same. Model talking about the book but without giving too much away (explain why this is important!). Then ask: What did you like about your book? What hooked you in? What kept you reading? What are some interesting facts about the book? What were the best parts of the story? Who was your favourite character? Why? What genre is the book? Who is the book suitable for/who would you recommend it to? and any other questions you might have. The aim here is simply to enjoy having a good natter about your favourite books and to ready children for writing about it later. You may like to make this even more enjoyable by having biscuits and blankets to hand!
If they can't think of one, maybe you could seize the opportunity to read a book together (picturebooks need reviews too!) and then review it either individually or as a collaborative team!
2) Explore what makes a good book review
You may wish to print off some examples of really good Amazon book reviews and look at the format (star rating, title, synopsis and opinions etc). Then discuss what children think they should include in their book review and what shouldn't be included (don't give away the ending!). Miss Gibson recently posted some excellent book review writing prompts, which may prove useful here: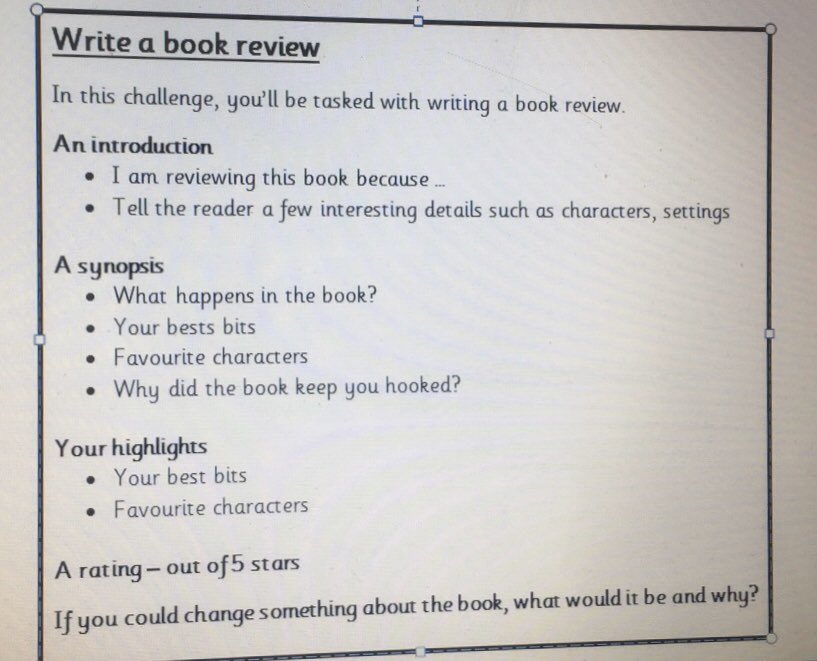 3) Write your Amazon Book Review
Children may wish to draft it in pencil first, then type it up once it's been proof read and revised/edited. Here are some examples from Mr Booth:
4) Finally, post the Book Reviews on Amazon*!
*Please be mindful of protecting identities online – never give out your full name or any personal details or information. Here's another example from Mr Booth:
Extend your learning with Lit Film Fest's Reading Rocks Reviews
If you wanted to take this one step further, you could film your own book review by taking part in Lit Film Fest's Reading Rocks Project for FREE! This project includes plans and resources for five 1-hour lessons, resulting in filming, editing and sharing your book reviews online. Have a look at some of the excellent video reviews here. This is a fantastic opportunity to develop your digital literacy and performance skills! Are you ready to give it a go? Lights, camera… ACTION!!
Share and Connect…
Don't forget to share your learning! We'd love to see your book reviews, as well as photos of you all enjoying a biscuit-and-book-chat! You can either comment in the box below or post a photo on social media (you can find me on Facebook and Twitter) using the hashtag #literacywithmissp
Happy Reading and Reviewing!
Miss P x